How Marketing Bootcamp Works
Marketing Bootcamp is presented 100% online, so you can access the material from work, home or even on your phone.
It's easy to follow, clear and comes with a detailed workbook to keep you on track along the way.
We've also got a support community on Facebook, where you get 24/7 support from Jac Bowie and her team, as well as other current and former students.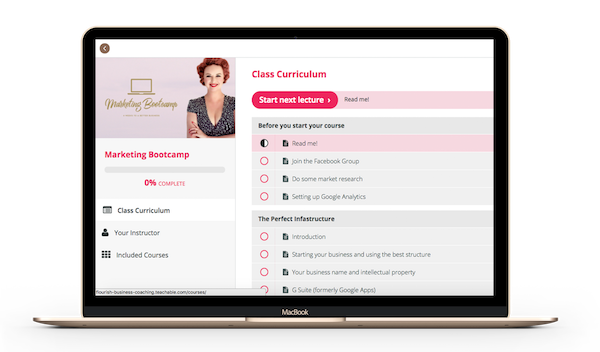 Who is Marketing Bootcamp for?


Whether you are a small business owner, work from home mum, startup, or student (my 12 yr old son Kai has done it!) you stand to cover everything you need to know about online marketing, so you can apply it to your business, brand or idea. We are talking social media, email newsletters, affiliate marketing, influencer marketing, sales funnels and so much more!


How the content is presented
Videos


Each new module comes with an intro video outlining the content and what you need to do in order to apply this to your own business. Some module content are training videos specifically made by Jac or a special guest for this course, or footage we've collected along the way.
Text


There's some text involved in each module, but it's written in short, easy-to-understand language that makes sense.
Worksheets


Most modules come with Worksheets that you can print out and fill in, forming your own marketing strategy over the duration of the course.
And we are here with you
24/7 support in our private Facebook group with access to Jac, other students and mentors.
Weekly Facebook Live Q&As in the group to cover that week's content in detail.
Full access to the member section in this site, where you'll find FAQs, additional reading material and worksheets.